"kitchen renovation ideas for every style"

Every home has a special corner. In most families, this special corner is kitchen! Kitchen is not only for cooking, you can have there family weekend breakfasts, good memories like cooking cookies with kids and etc. That's why designing kitchen is a big deal. Lets look together kitchen renovation ideas to make that big decision :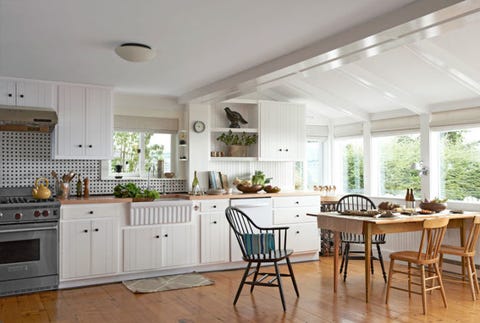 Farmhouse / modern style. It will definitely bring back old and swwet memories of farm, also has a mobility of new and modern kitchen. Good for nostalgia addicts.

This modern and fascinating beauty little bit cold for big families. But it will make drop many jaws, for sure.

Lather door knobs, honeycomb wallpaper and soft white kitchen cabins - it is like heaven for whose thinks that simple is the best.
A bright red stove in white and wood kitchen can make a big difference. It is bold and in harmony at the same time.

Maybe it is looks like a classic/modern one, but those chairs give it another vibe. Sometimes simplest things can change a whole thing!

Neat and clean kitchen style best for cleaning freaks. You even can catch here a single dust. Marble chairs give it luxury look.

When we talk about kitchen, black is not the first color that would come in to our mind. But after this design, you definitely should consider this color too.

Colorful kitchens are coming back. This shade of blue also little bit retro. If you want to feel like 60ties, get a retro stowe and choose your curtains carefully - you are done!

If you have small kitchen and still want a kitchen table, this wall table is the best. You can just unscrew it and it will be gone anytime you want that extra space.

If it not these big lamps, this kitchen not different from any others. But just little, single thing changed everything!

No matter how big your space is, you only need few basic things in there.

In this design transparent chairs get the attention. It is star of this kitchen. Maybe not the best at comfortable, but definetly first grade in style.

Tell us about using all the space you have. Simpe and useful design for modern, small houses. Can serve as kitchen and dining room at the same time.

Eye catching blue kitchen interior redefines "simple and colorful" style again. You will never get tired with these colors.